Last year I remember someone calling me a Chelsea Veteran. Wow, does that make me feel old!! #throwback to 2002 where we started our RHS show garden career.
If I knew then what I know now? Would it make much difference?  
Obviously we are a lot more experienced but there is a lot to be said for the innocence you have when first creating a garden at Chelsea. A kid in a sweet shop comes to mind! At the show, I always watch out for the newbies and I am quite jealous. 
After creating a garden at a local private school designed by Alex Trotman. She asked if we would like to help her create a garden at Chelsea. I didn't know what she meant but after a little homework came round to the idea. Imagine the amount of work we will get! The world stage! This time next year………!
So we started, hours and hours of preparation and we got there. Our preparation was worth it, as we built the garden quite quickly. Some of the gardens were on south ranelagh way at this time, (I sat in a warners gin bar on the exact spot last year) great camaraderie from all the other gardens who at that time were mostly colleges, hobbyists, landscaping companies. Nowadays it's mostly just designers and landscapers. We had a great time.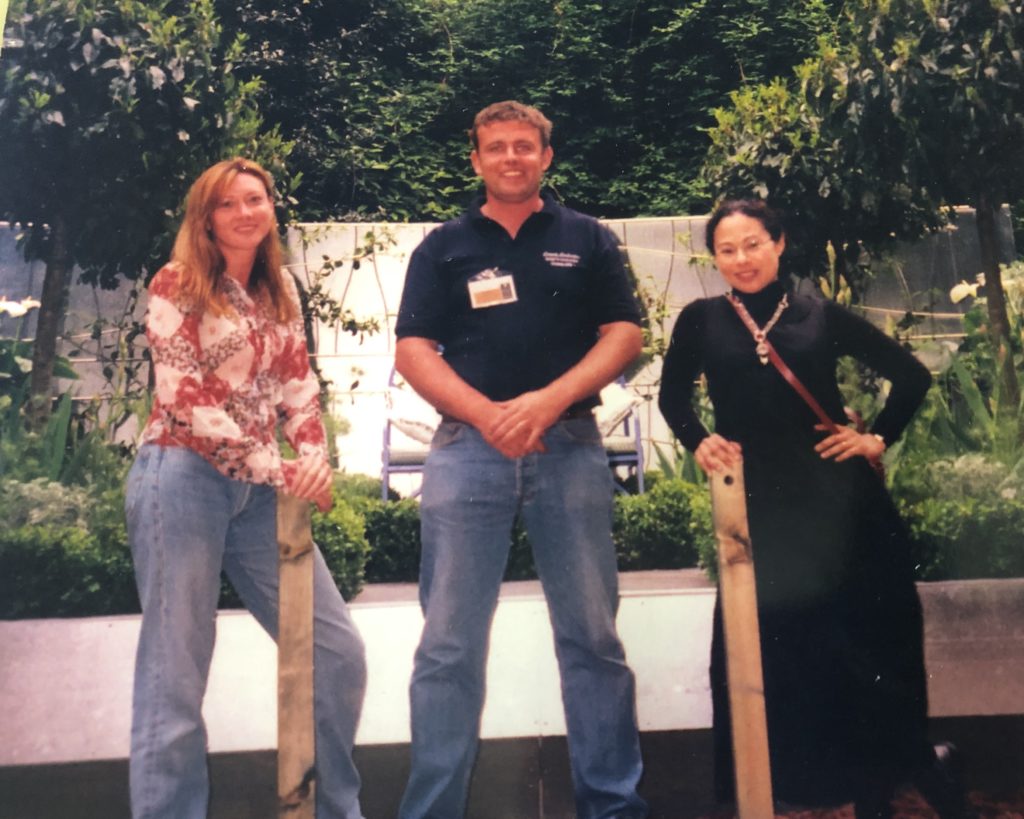 The Sunday before show opening came along and I was sweeping up at the front of the garden and noticed a guy stopped and looking at the garden, we exchanged pleasantries and he asked me if he could speak to the designer. Alex was round the back of the garden so I went round and told her some geezer was out the front wanting to speak to her. Alex turned around and walked off with a "what now!" sort of attitude. On seeing him she stopped a little, went red, and started fiddling with her hair. She spoke to him and when he was gone came up to me and said you could have told who he was before I came round. I was like, I didn't know and she exclaimed 'It was Chris Beardshaw!
Get ready for judging, climbing over plants, treading on paving in bare feet washing, cleaning, picking plants, turfing around the boundary, post and rope. Leaflet storage.!!!!!
Judging day we got silver!! Wow, wow wow, sooo excited, telling everyone what we had achieved including some fellow exhibitors who had got a silver-gilt and were trotting off to find a judge to get an explanation as to why they didn't get a gold! I didn't understand this then and still don't now!
For me, it really, really is the taking part and enjoyment of it all. If you don't respect these two principles and achieve them no matter what medal, don't do it again. Having a tiny screw loose helps as well!